We have reviewed Kerio products more than once in our articles. Now it's time for a new update for Kerio Connect mail server, which is one of the best alternatives to Microsoft Exchange. Easy to deploy, easy to administer, and high quality user data protection make Kerio Connect one of the most compelling enterprise products. Recall that in the middle of this year, Kerio released update 9.1, which brought automatic server updates to the product, an updated version of the web interface for working with mail, improved messaging and collaboration with features such as presence status, chat and many other items. Now the attention of the company's engineers was drawn to the creation of a separate application for the desktop, integration with the Spark service, an intelligent mail client for mobile devices and remote control using MyKerio.
Since Kerio Connect was originally designed for small and medium-sized businesses, it has very low hardware platform requirements, is easy to install, and fairly simple to administer. In writing this review, we used the VMware version of this mail server. However, unlike Kerio Control, which is offered only as a version for virtualization systems or a version for installation on bare hardware, Kerio Connect mail server is also available as a Windows, Linux and Mac OS application. Due to the fact that it has a very convenient web interface, clients can connect to the server from almost any device that has access to the network. For virtualization systems based on VMware products, Kerio offers Kerio Connect as standard deployment packages for Virtual Appliance VMX and Virtual Appliance OVF. There is also a version for Windows, Mac OS X and Linux operating systems based on Debian and RPM packages (Red Hat, CentOS, SUSE, Debian, Ubuntu). All operating systems support 64-bit architecture.
Since the new version of Kerio Connect 9.2 has integration with the MyKerio cloud service. During the initial configuration, the administrator can take advantage of the remote configuration using the MyKerio cloud service.
By connecting the new Kerio Connect server to his MyKerio account, the administrator can remotely configure it and make all the basic changes to get started.
It should be noted that the MyKerio service also received a small update in the form of a separate application for mobile devices. The new application allows you to monitor the status of Kerio servers in real time. An important function is the automatic notification of the administrator in case of a malfunction or a new update.
Since the last release, the control panel has hardly undergone significant changes. The main changes were made to the web interface for working with mail.
Recent releases have added many features to improve user productivity, including remembering selected messages when sorting, searching, or changing folders, and other user experience improvements. In particular, there are new features such as "presence status" and "integrated chat". They allow users to easily check the availability of their contacts and give them the ability to quickly reply to messages in real time if the contact is online. One innovation should be noted, namely the delegation of your mail and calendar to another user. If earlier, to access another user's mail, the administrator's help was needed, now each user can open access to his mail, if, for example, he is on vacation. This is convenient because it removes the need to configure rules for message forwarding.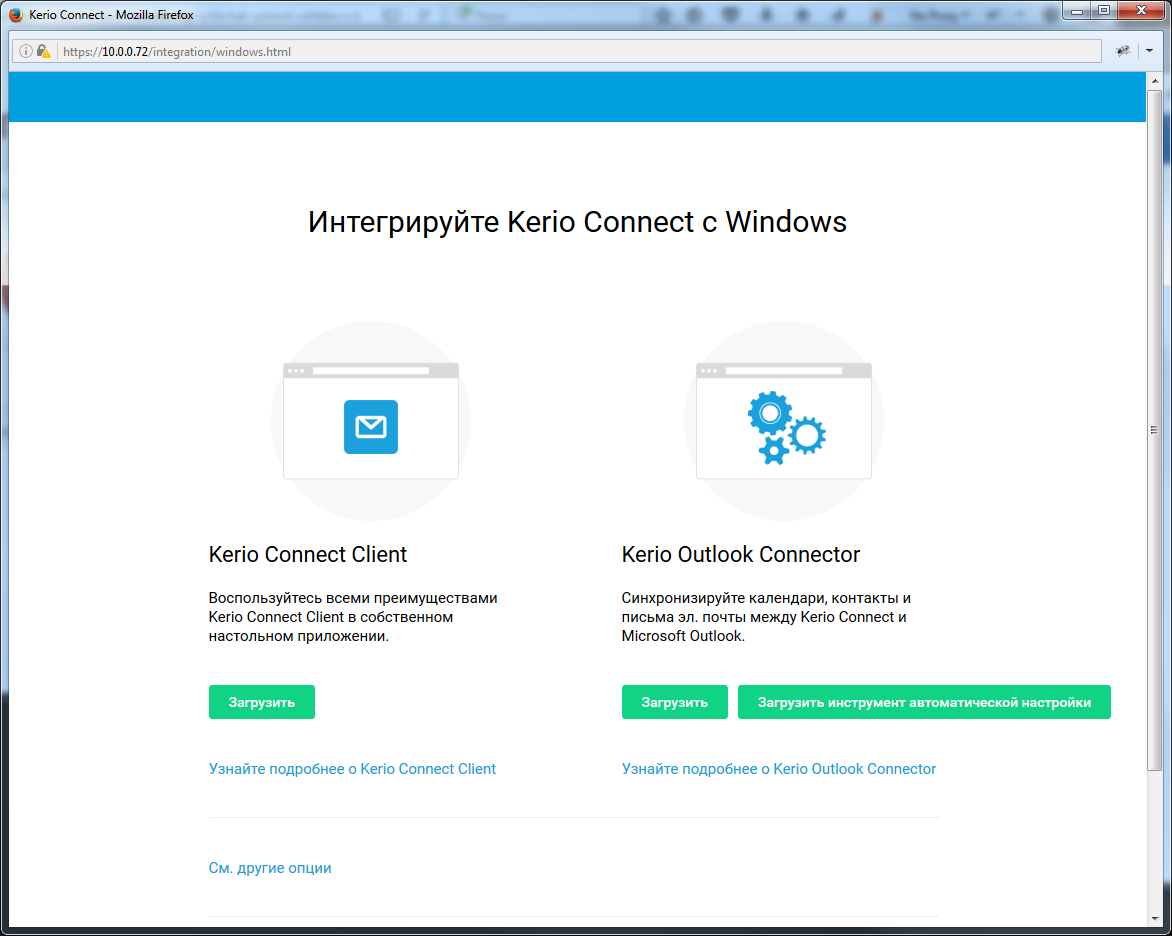 The biggest innovation in Kerio Connect 9.2 is a new standalone application for Windows and MacOS. Now the user can not only work with mail through the built-in web interface, but also install a separate application.
In addition to the ability to integrate with Outlook using the Kerio Connector, mail servers allow you to work with Google, Apple, Mozilla Lightning and other calendars compatible with iCal.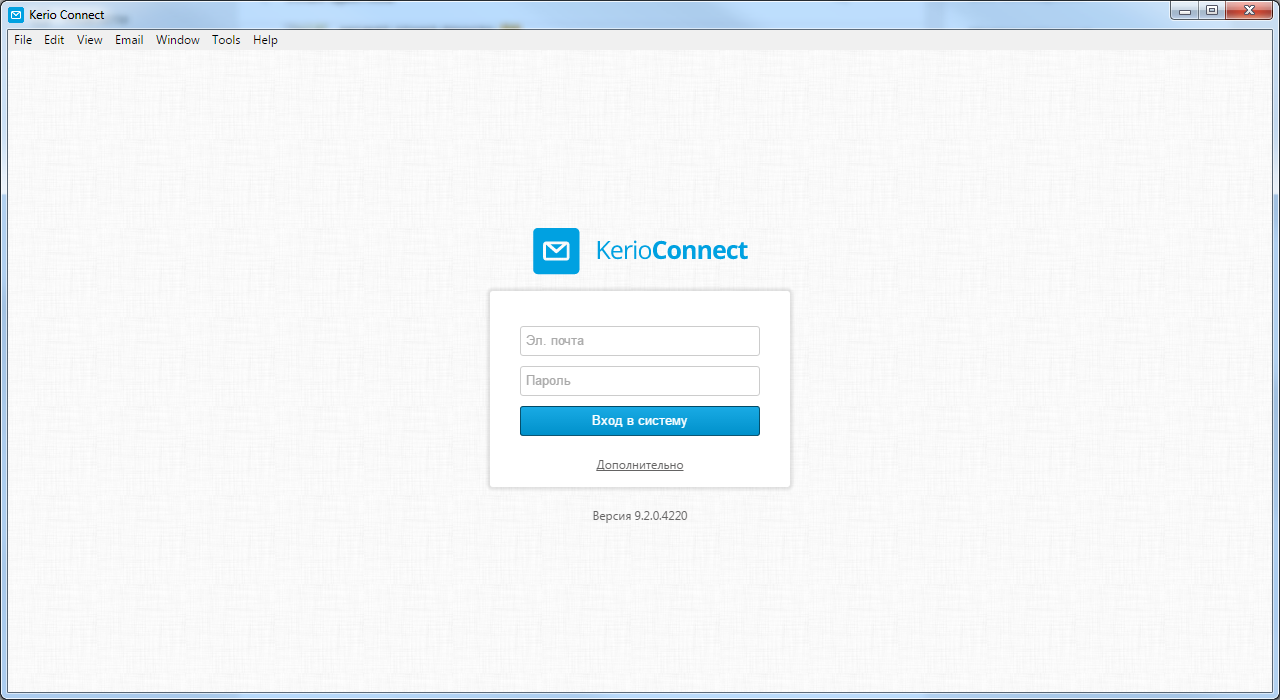 The new standalone Kerio Connect mail application is only compatible with Kerio mail servers version 9.1.1 or later. At the first start, it allows you to log in with a user account, and if it is necessary to specify the exact server address.
In terms of its functionality, it almost exactly repeats the web interface for working with mail. At its core, it represents its own browser that accesses the Kerio Connect server over an encrypted channel. The new desktop app for Windows and Mac has persistent login details, notifications for new emails, chats and events, and can be configured as the default email app.
It is worth noting that a separate tab has appeared for the new application in the Kerio Connect settings, which allows the administrator to configure security options for each client separately.
The new Kerio Connect 9.2 for iOS users also adds the ability to set up an account in the popular Spark smart email application from Readdle using the built-in Kerio Connect profile, thereby helping users to focus on important emails and spend less time sorting less important emails. You can download Spark by Readdle from the Appla App Store.
Brief conclusions
To summarize, we can say that Kerio Technologies continues to improve its popular Kerio Connect mail server. The release of the next version always brings something new, and since the company follows modern market trends, almost all changes become in demand and useful for users and administrators. Overall, Kerio Connect is an excellent alternative to Microsoft Exchange that is widely recognized and well established in the market. Kerio Connect is low maintenance to meet the needs of today's businesses, while offering unmatched deployment flexibility and support for a wide range of mobile devices. In conclusion, it is worth noting that our company has been using Kerio products for almost ten years and we can confidently say that these servers meet the highest security standards, and are currently unrivaled in terms of ease of deployment.
…